When Cadence and Gabriel were little there was only one baby item that I absolutely could not live without:
The Original Nojo Babysling by Dr. Sears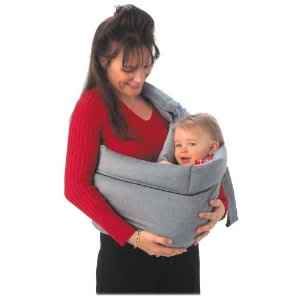 All three of my children have ridden around in the same gray ring sling until they were a year or so old. With Cadence and Gabriel though, my must-have list ended there.
With William however, I have discovered four other must-haves that I didn't discover with Cadence and Gabriel - a few of which could even contend with the Nojo sling for my number one favorite baby item. They are as follows:
Cloth Diapers and accessories
If you would have told me three or four years ago that I would fall in love with cloth diapers, I would have laughed at you and then made some disgusted face at the thought of washing some of the diapers that I had seen my older daughter and son produce. However, when I was pregnant with William I decided to research the whole cloth diapering thing. I got passed the "ick factor" and began thinking about how much money I had spent on diapers for Cadence and Gabriel and how much space those disposable diapers were now occupying in a landfill (and will continue to occupy for hundreds of years).
I bought six Katydid and one Kawaii pocket diapers on Craigslist. My stash had officially begun. I also purchased four bumGenius 4.0 diapers using Target gift cards we had been given when Liam was born. I then began comparing different brands and styles of diapers to decide which would be best for us. We fell in love with the concept of
Best Bottom
diapers. They have an outer shell with snap in liners. If your baby pees, you just change out the liner. If the baby poops, you change the whole thing. This means that they take up less space in your washing machine than traditional cloth diapers and, since you can use them more than once, they are very cost effective.
We currently have six Best Bottom diapers and about 20 liners. We wash diapers every 3 days or so, hang dry them, and use our pocket diapers on laundry day and to supplement our stash as needed.

In addition to the cloth diapers, we have cloth wipes that we bought from
Handmade Burps
on Etsy that we adore and a
diaper sprayer by bumGenius
. That will come in handy when William begins to eat homemade baby food in a few months. We also make our diaper wipe solution and keep it stored in a spray bottle.
With our self-sustaining diaper stash, I can't help but smile every time I pass a mom at Walmart with a box of diapers and a huge pack of wipes. I'm so glad that I don't have to do that anymore.
Infant Carrier Cover
Made by
Barlow Baby
, an at home business created by a friend of mine from my pregnancy board, Williams carrier cover has quickly become a must-have item. It remains strapped to our carrier. We flip it behind him when we are driving and cover him up when we are taking the carrier from the car to our destination. It protects him from the rain, wind or bright sun. We love it!
Nursing accessories
For some reason breastfeeding never worked out with Cadence and Gabriel. I had a terrible experience in the hospital with Cadence and with Gabriel I really think that the stress factor created by the sudden end to my marriage impacted my supply. With William though, it is going great! It was hard in the beginning. He was a month old before he latched. That meant that until then I went though the vicious cycle of trying to get him to latch; feeding him from a bottle, finger feeder or cup; and, pumping every 2-3 hours around the clock. I barely did anything else. Chris was so supportive. He wasn't going to let me give up and he is the reason that I am still nursing.
In the first few weeks, the best accessories for me were my Medela Symphony pump from the hospital and my Medela contact shield.
Now my favorite items are my nursing cover, which is an Udder Cover but I bought for $2 at a consignment shop and my Lansinoh storage bags. I've tried the Medela bags too, but I'm not a fan. Accessories aside, I am just happy that nursing worked for me this time. Passing the formula section at Walmart is much like passing the diaper section - I smile to myself and am so glad that I don't have to stop.
BabyLegs
Last, but not least, I love William's
BabyLegs
! They are
not
leg warmers (boys don't wear leg warmers). They are waist-less, crotch-less pants! Ok, they are leg warmers... But they are adorable and oh so practical! William can wear a onesie without the need for pants over top. This makes diaper changes a breeze!
At $12.00 a pair, they may seem expensive. However, their website usually has some available on clearance and often runs ridiculously awesome sales on clearance items. Recently, they had all of their winter items 75% off, which meant $75 worth of BabyLegs for $18.75. Don't mind if I do! Also,
Natural Baby
in downtown Greenville also carries BabyLegs. I found some Christmas patterns there on clearance the other day for $3.25 a pair.
There is another great place for on sale BabyLegs:
Clothdiaperclearance.com
. I bought William a pair of "Ode to Canada" BabyLegs from that site a few weeks ago.
Here is William modeling one of our favorite pairs of Babylegs. The soccer prints that Charlie and Elizabeth gave him for Christmas:
So, for now, those are my most favorite baby items.... for now. :) I am currently waiting for some really cute crocheted items that I traded for some disposable diapers, a baby wrap and some formula that I no longer need thanks to the above-mentioned items. I will probably do a separate entry on them. I'm also beginning to make and deep-freeze William's baby food so cheap ice cube trays are quickly working their way up on my must-have list. Again, that will probably be a separate entry though.